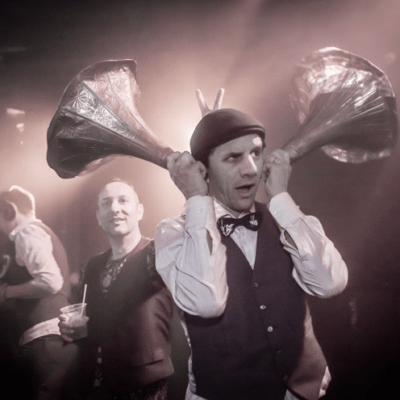 Get down to the sound for the
roaring 2020's
with DJ Eliazar's killer "Whiskey Tango Foxtrot" swing house mix.
Combining the vintage sounds of old time jazz, swing, and big band era tunes and adding house, hip hop, and EDM flourishes – swing house (or electro swing) is a funky amalgamation of past and present.
As Nick Hollywood states, "It is the music of the first Great Depression mixed with the technology of the second."
For fans of the genre, DJ Eliazar should immediately ring a bell. Founder of the globetrotting Speakeasy Electro Swing events, DJ Eliazar pushes the genre with each and every song, mix, and compilation that he drops.
As always, DJ Eliazar's "Whiskey Tango Foxtrot" cultivates a feeling of pure audio bliss upon first listen. Flawlessly mixing 21 tracks over the course of 60 minutes, the "Whiskey Tango Foxtrot" mix is a conglomerate of dusty samples, bumping percussion, and new age bass that's sure to satisfy the dancing soul.
Perfect for dance floors and living rooms alike, throw this mix on and take hold of the boogie.
Listen to DJ Eliazar's "Whiskey Tango Foxtrot" mix and grab the free download below.
For more of the freshest sounds, exclusive guest mixes, dope playlists, and everything electronic music, stop depriving your ears and follow us on SoundCloud today.