Lightning in a Bottle is different from other electronic music festivals by offering the most innovative immersive mind and wellness activities. The boutique festival has released it's entire Yoga and Movement lineup highlighting classes for all ages and ways to find your center. On top of offering a stellar musical lineup, these immersive activities are one of the main reasons why countless fans continue to return each year.
As you get to know the Yoga & Movement lineup, enjoy our Lightning in a Bottle playlist.
The Yoga & Movement activities is a chance to invite Lightning in a Bottle attendees to awaken their body and mind.
The classes are offered from sunrise to sunset under beautiful structures called Luna Yoga and Yoga Sol. Taught by talented and disciplined teachers, the variety of classes offered include Sound Healing, Kids Yoga, Ecstatic dance, Kundalini, Acro and much more. You can be assured these classes will help you reconnect with yourself, restore your tiresome bodies from dancing and realign your chakras.
Official Mind & Body Wellness Video at LIB:

Lightning in a Bottle 2018 lineup: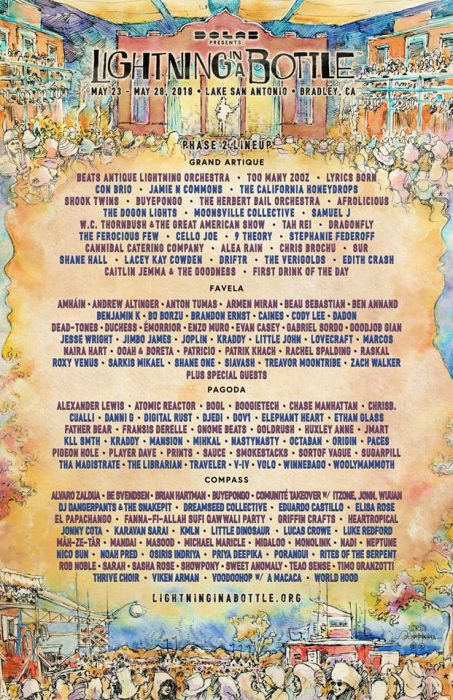 These performances will be held on innovative stages like the Thunder Stage, Woogie Stage, Grand Antique, Lightning Stage and other favorites. The festival will be providing the same level of musical experience this year continuing on exceeding expectations from fans.
Lightning in a Bottle 2017 recap video: 
A progressive music lineup on top of wellness workshops, Yoga and Movement sessions and bizarre and hilarious games, are the 4 elements that make Lightning in a Bottle stand out as one of the most transformational and immersive experiences. Listen to our Phase 1 and Phase 2 playlists in preparation for this year's festivities. The festival is a camping outdoor experience with different tiers of camping options.
Get more details and grab your passes here!
Follow Lightning in a Bottle: