The inspiring, transformational music festival, Lightning in a Bottle returns this spring on May 23-28th in Bradley, California. After announcing the Phase 1 Lineup consisting of acts like Sango, Giraffage, Nicole Moudaber, The Black Madonna, Zhu, Walker & Royce, and Random Rab, there was no question that Phase 2 was going to be as particular.
Lightning in a Bottle presents an unprecedented Phase 2 lineup set to perform on Grand Artique, Pavela, Pagoda, and Compass Stages.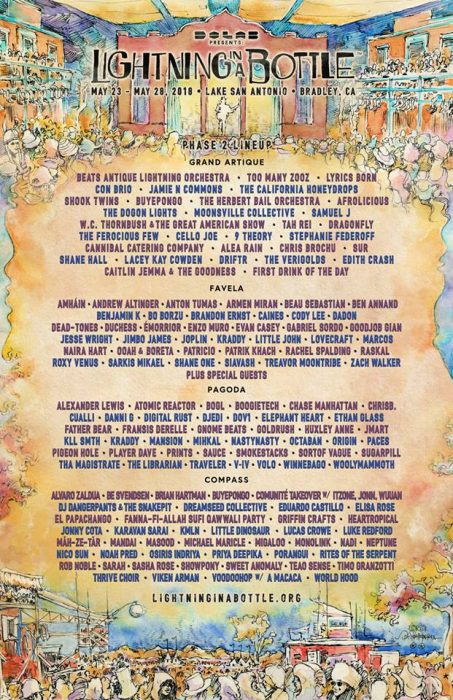 The multi-genre lineup consists of talent from all over the world that are familiar and brand new to North America.  It could be overwhelming looking at the list, however, we decided to break it down for you and point out some acts you must go see.
Grand Artique Stage will be fully immersive with a Trading Post/General Store, gypsy encampment, and hotel all while standing next to the dance floor and stage.
Performing at the Grand Artique where the town of Frontierville comes alive are talents like Too Many Zooz, Shook Twins, Samuel J, Tah Rei, Dragon Fly, Cello Joe, and Sur.
Known for delivering themed parties like '80s Prom Night or Disco Dance Party, who knows what the Favela stage has in store for us this year. Whatever it is, performances like Andrew Altinger, Beau Sebastian, Kraddy, Little John, Patricio or Zach Walker will encourage you to expose the inner child within you to their themed atmospheres.
Featuring some of the rising acts on the Pagoda Stage include Alexander Lewis, Danni G, Digital Rust, Ethan Glass, Goldrush, The Librarian, and The Traveler. Find your direction at the Compass Stage with performances like Eduardo Castillo, Elisa Rosa, Lucas Crowe, Masood and many more.
Listen to 'Sweet' by Little Dragon below:

Listen to 'Squishy' by Digital Rust below:
As exciting as it sounds, nothing will compare to the actual experience once it's here. The music selection is a small part of the impact that attendees have experienced at the festival. Be a part of the life-changing event this spring by getting more details and grabbing your tickets here.
Watch the official trailer of Lightning in a Bottle 2018:
Follow Lightning in a Bottle: