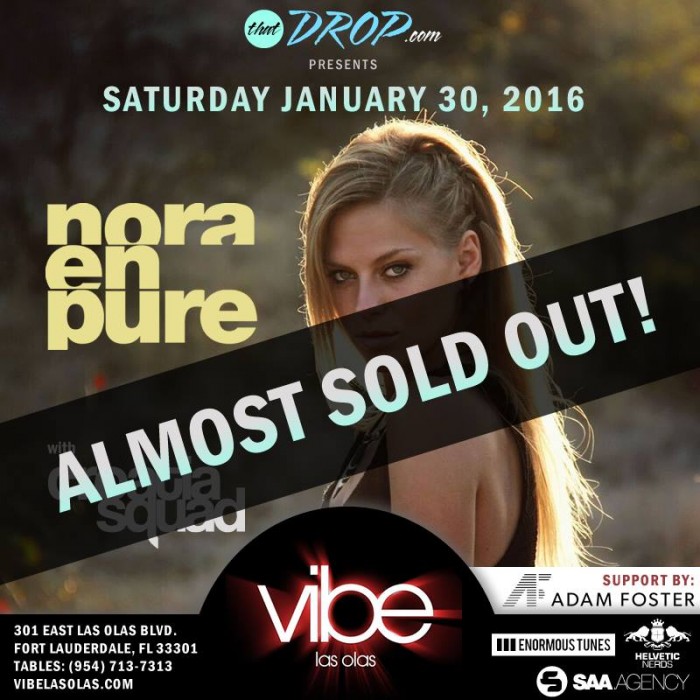 The anticipation continues to build just a few days from our second event with Vibe Las Olas on Saturday, January 30.
After multiple epic performances on The Groove Cruise Miami and just ahead of her North American bus tour, Nora En Pure is ready to bring her signature melodic deep house sound to Fort Lauderdale's premier nightclub. With support from local talent Adam Foster and fellow Helvetic Nerd Croatia Squad, the Switzerland-based and South Africa-born DJ is prepared to turn this South Florida hotspot into a blistering dance music frenzy. As if the hype surrounding this international showcase wasn't already at maximum levels, it is now after being featured in local newspaper The Broward Palm Beach New Times.
If our first sold out event with EDX was any indication, this is already primed to be a night that you won't soon forget.
We're down to our last few $10 presale tickets, but you can still grab yours if you act fast.
We look forward to dancing the night away with 200 of our closest friends this Saturday, January 30 at Vibe Las Olas.
For more information, visit the official event page by clicking here.
Check out the aftermovie from our first event with EDX at Vibe Las Olas below.
Please enable Javascript to watch this video