Denver, Colorado's Michal Menert is about to blow your mind (once again), and this time it's with his new 6-piece live band.
Releasing their debut studio LP, the self-titled Michal Menert and the Pretty Fantastics, Menert and crew take the producer's jazzy soul hop style to an entirely new level.
Washed in organic timbre and texture, live instrumentation reigns supreme on Menert's new album, throwing down soulful funk sounds that incite perfect dreams of sunset cadences and sunrise sets.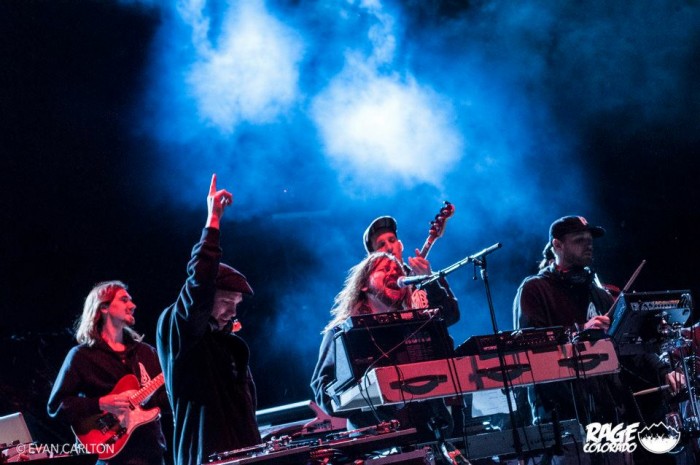 The lyrically-driven LP expands upon Menert's
spacey soul hop sound,
bringing his sound to a new plane with each of the record's 10 tracks. Showcasing the producer and multi-instrumentalist's steadfast studio and instrumental skills as well as his vocal talents, check Michal Menert and the Pretty Fantastics today – they've created a seriously impressive piece of work.
Following up the release with a corresponding fall tour, check out the full tour schedule below.
For more of the freshest sounds, exclusive guest mixes, dope playlists, and everything electronic music, stop depriving your ears and follow us on SoundCloud today.
Philadelphia, PA – Coda – Oct 1
Darlington, MD – Luna Light Festival – Oct 2
Buffalo, NY – Waiting Room Studio – Oct 3
Pittsburgh, PA – Club Cafe – Oct 4
Portland, ME – Asylum – Oct 6 (RL)
Providence, RI – Fete Ballroom – Oct 7 (RL)
Burlington, VT – Higher Ground – Oct 8 (RL)
Boston, MA – Middle East – Oct 9 (RL)
New York, NY – Gramercy Theatre – Oct 10 (RL)
New Haven, CT – Stella Blues – Oct 12 (RL)
Charlottesville, VA – The Southern – Oct 13 (RL)
Richmond, VA – The Broadberry – Oct 14 (RL)
Asheville, NC – New Mountain in AVL – Oct 15 (RL)
Atlanta, GA – Terminal West – Oct 16 (ST)
Nashville, TN – Mercy Lounge – Oct 17 (ST)
Louisville, KY – Diamond Pub – Oct 18 (ST)
Bloomington, IN – Kilroys/Dunkirk – Oct 20 (ST)
St. Louis, MO – 2720 – Oct 21 (ST)
Madison, WI – Segredo – Oct 22 (ST)
Kalamazoo, MI – The Mix – Oct 23 (ST)
Rockdale, TX – Art Outside – Oct 24
Fayetteville, AR – George's Majestic – Oct 25
Albuquerque, NM – Stereo Bar – Oct 27
Durango, CO – Animas City Theatre – Oct 28
Aspen, CO – Belly Up – Oct 29
Denver, CO – Fillmore Auditorium – Oct 30 (ST) [w/ Gaslamp Killer & Thriftworks]
Live Oak, FL – Hulaween – Oct 31
Seattle, WA – Barboza – Nov 5 (ST)
Portland, OR – Star Theatre – Nov 6
Eugene, OR – Cozmic – Nov 7
Arcata, CA – The Jam – Nov 8 (ST)
Tahoe, CA – Whiskey Dick's – Nov 10 (ST)
Santa Cruz, CA – The Catalyst – Nov 11 (ST)
Los Angeles, CA – Club Bahia – Nov 12
San Luis Obispo, CA – SLO Brew – Nov 13 (ST)
San Francisco, CA – Hawthorn – Nov 14 (ST)
(ST) = Support from StarRo (Soulection)
(RL) = Support from Russ Liquid