Friday, April 25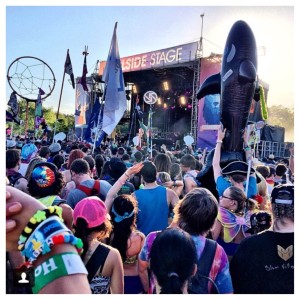 Reppin' her hometown, Martina McFlyy threw down for the A', spitting out intergalactic disco dancing interspersed with thumping bass at the Steeple Stage before giving way to Pegboard Nerds. I would say that they eased in to their set but then I would totally be lying. The Dutch duo flew out of the gate in true hardstyle fashion causing totems to seizure in the sky and jaws to crash crash down to the floor. Those who were unaware of what they had gotten themselves in to quickly gave way to the intense faded and reversed basslines.
Potato Guns and Saxophones
From there it was over to the blu Freedom Stage where Big Gigantic got groovy in true Big G style. Dominic Lalli blazed away on the saxophone with Jeremy Salken slaying away at the percussion creating rhythm that shook the cellular composition of the thousands of people flailing around to old school favorites; From the 2012 EP "Nocturnal" to the freshiest of the fresh from their latest "Touch the Sky." As incredible as the set was, the highlight very well may have been the potato gun disguised as a totem pole that blasted hundreds of glow sticks in to the sky midway through the set, capturing the attention of anyone within earshot of the stage.
Mat Zo Proves Why Adding Him to the Lineup Was a Good Move
Next up was Mat Zo. Taking the reigns in true form, Zo delivered variety that orchestrated a crowd controlling performance on par with his wizardry that was Ultra Music Festival. Once the lights were all the way down and the stars came out to play, Pretty Lights took over with his live band in a performance that exceeded my wildest expectations. Adam Deitch and Borahm Lee of Break Science, Scott Flynn of John Brown's Body, Eric Bloom of Lettuce, and Brian Coogan came together with Derek Vincent Smith to create a production that even convinced the surrounding forestry to get funky under the stars.
The Krew Gets Wet
After all the madness the focus went to the Steeple and Underground Stages where Krewella and Boys Noize did not disappoint. Yasmine and Jahan kept the crowd in to it in typical Krewella fashion while Kris manned the decks. The Krew was in full effect as the trio played all of the favorites while even throwing in a little Johnny Cash.
For that dedicated fam, the Silent Disco offered a more intimate vibe to close out the night while still dishing out bangers with Exmag.
All in all, the first day was definitely a marathon packed with everything from live instrumental sets, trap, progressive, glow sticks, hugs, and good times all around. Scary to think this was just setting the tone for the days ahead.