Mark you calendars off for March 11th – 14th, because the historic first EVER Spring Break EDM cruise is redefining the word "lit". Setting sail to The Bahamas from Miami, Inception at Sea is revolutionizing what it means to go on Spring Break.
Where were these kind of events when I was in school?
If shacking up on a ship with thousands of like-minded party seekers wasn't already primed to be a jolly-good time, the complete lineup that was just released certainly changed that. Joining previously announced headliners The Chainsmokers, Tyga, and Lil Dicky will be Cash Cash, Bass Jackers, Otto Knows, Cazzette and dozens of the hottest names in electronic dance music and hip-hop.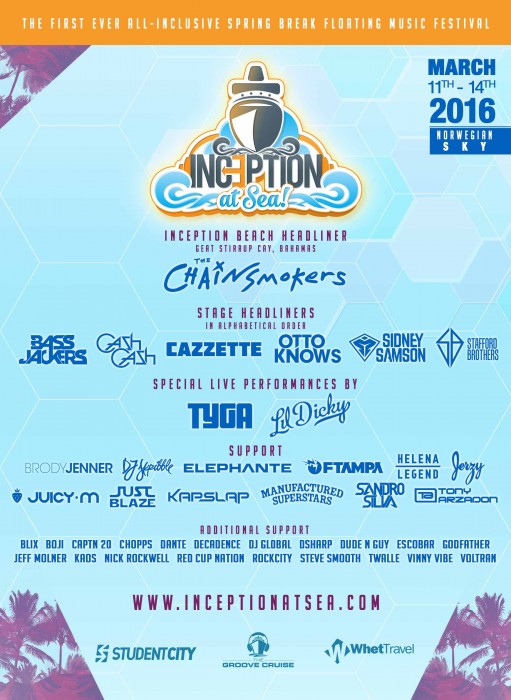 Event presenters StudentCity, The Groove Cruise and WhetTravel are no strangers to crafting EPIC adventures, having curated some of the widely-recognized Spring Break experiences and music cruises that exist. The best part? Getting involved is incredibly affordable considering everything that is included. Along with access to all events on board and on land and cabin accommodations, complimentary dining and premium open bar are included.
Free food and free drinks? What more could any college student ask for?
Cabins are still available and can be reserved here. Be a party of history and sign up for the first-ever, all-inclusive Spring Break EDM cruise – Inception at Sea.