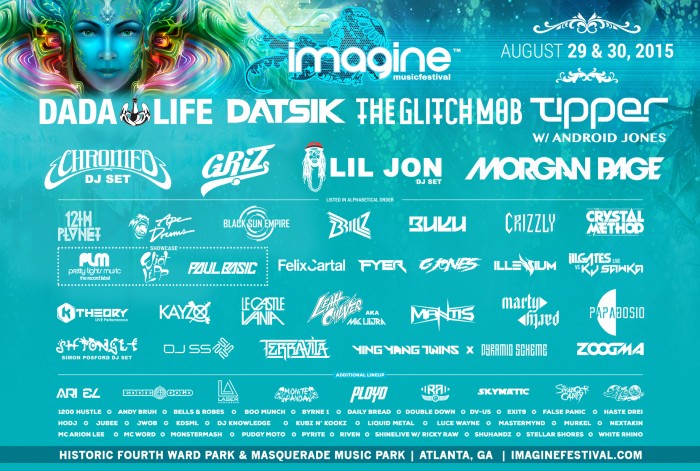 Imagine Festival released their Phase 2 lineup for 2015's music festival slated to take place on Saturday, August 29 and Sunday, August 30 in Atlanta, Georgia; it's looking righteous.
Adding big name electronic artists like Morgan Page, Tipper, Le Castle Vania, MartyParty, Buku, Mantis, and more to the already stellar lineup – Imagine Festival is shaping up to be one of the top festivals in the South Atlantic region this year.
In only its second year, if 2014's event is any indicator of things to come then festival attendees are in for something special this August.
Canvassing 3 parks in the heart of the great city of Atlanta, Imagine Festival will take over Historic Fourth Ward Park, Masquerade Music Park, and Clear Creek Basin to form a 17-acre EDM paradise.
With 3 stages, the Imagine Visionary Arts Village, and yoga, poi, and flow classes – everything is set for an insanely raucous time in ATL this summer.
Festival organizers, IRIS Presents, have been voted as Atlanta's number one promoter for the last two years as well as Creative Loafing's "Best of Atlanta" for Best Local Promoter, Best Weekly Club Night, Best Nightlife Event, Best Dance Music Club, Best After hours/late-night Spot, and more.
After 2014's inaugural year, we can only expect big things from Imagine Festival and IRIS Presents for this year's festival. With Fest3000 naming Imagine as one of their top 15 music festivals to attend in 2015, it looks like we're not the only ones who think so.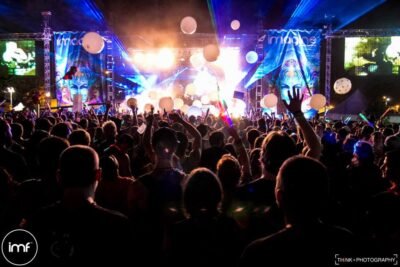 Currently, tickets are $129 for a full weekend pass, promising to go lighter on the pocketbook than festivals with similarly stacked lineups.
If you're looking to save some cash, head here to take 30 seconds to enter our contest to win a free pair of tickets to Imagine Festival 2015. What's better than a pair of free tickets? Not much, to be honest.
With Dada Life, Datsik,  The Glitch Mob, Tipper, Chromeo, GRiZ, Morgan Page, 12th Planet, Crystal Method, Shpongle, G Jones, Papadosio, MartyParty, Terravita, and more coming to Atlanta for 2015's Imagine Festival – get ready for one of the biggest parties to hit the southeast this summer.
Head to the Imagine Festival website and grab your tickets today because this is one dance party that you won't want to miss.
Looking for a chance to win free tickets?
Take a quick second to enter our giveaway contest