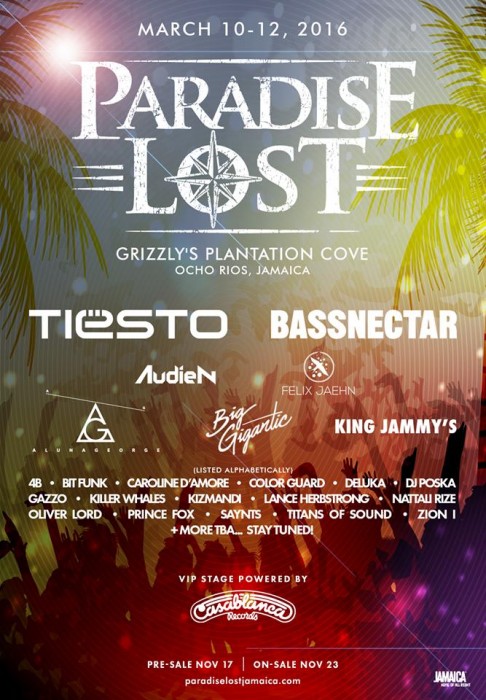 Better late than never.
EDM is returning to its roots with Jamaica's first ever EDM festival.
As dub-music approaches its 50th anniversary, Paradise Lost is bringing the best in EDM and reggae to Grizzly's Plantation Cove in St. Ann – the place where Lee Scratch Perry discovered The Wailers and Bob Marley was laid to rest.
On the connection between EDM and Jamaica, Billboard wrote:
EDM DJ's that dissect and otherwise manipulate their tracks while playing live are following an innovation established by the brilliant Jamaican engineer, sound system owner/selector, the late King Tubby. While working as a disc cutter for Duke Reid and using a two-track recording console, Tubby eliminated vocal and instrumental segments, sometimes stripping a song down to a single, thunderous bass line, which he embellished with echo and reverb effects, in a process called dub.
Along with experiencing Tiesto, Bassnectar, Audien, and Big Gigantic like never before, attendees will have the opportunity to indulge in offsite excursions and camp under the subtropical stars. If paradise was indeed lost, it looks like it has been found with this unique hybrid fusion of artists and activities.
Early bird tickets go on sale November 17th at 10 AM EST and can be purchased by registering here. For more information be sure to visit the official Paradise Lost website today.