As The Chainsmokers' worldwide hit "Closer" remains as the #1 song in the world via Billboard Charts, Spotify Charts, and more, they have already released their next follow-up hit. After releasing three songs that quickly went double platinum, they may have added a fourth to their collection, "All We Know".
"All We Know" features Phoebe Ryan's vocals alongside Drew Taggart's and follows up "Closer" beautifully.
"All We Know" is reminiscent of "Closer", and the similarities are haunting. But, the differences are just as stark.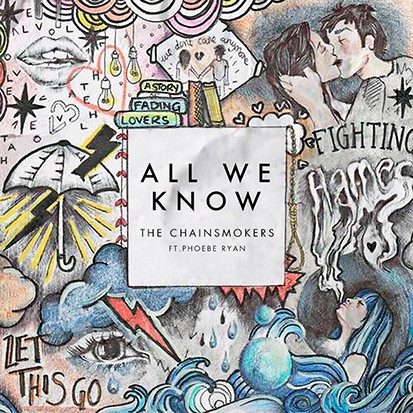 It's safe to say that The Chainsmokers have truly honed in on their sound. While more laid-back than "Closer", all we know incorporates similar elements and is equally as catchy. They have truly blended electronic music with pop resulting in this infectious hybrid.
It opens with a melodic tempo and employs similar harmonizing vocals. "All We Know" employs catchy electro-pop sounds and an electro-house build before dropping into a head-bobbing melody interspersed with vocals.
There are differences between the two hit singles of course. Phoebe Ryan's vocals are much sweeter and lighter than Halsey's wide range of timbres and while "Closer" conveys a nostalgic love song, "All We Know" is a sweet sun-drenched summer song.
"All We Know" has all the right elements to make it a summer smash.
The Chainsmokers may have done it again and released a song that will dominate not only radio airwaves, but festival airtime. With a string of #1 hits, it would be likely to hear of an album announcement by the end of the year perhaps. Rumors are that they have tracks with Chris Martin of Coldplay, Bebe Rexha, and others so they definitely have enough material.
Do you think "All We Know" will surpass "Closer"?
Listen to The Chainsmokers All We Know below:

Follow The Chainsmokers: