The Chainsmokers & Halsey's "Closer" is still, as of today, #1 on all charts including Billboard, iTunes, Spotify, and more. Coming off of two other highly successful singles, "Roses" and "Don't Let Me Down", The Chainsmokers have placed themselves in the upper echelons of electronic music.
This year and summer especially, mainstream radio has been dominated by electronic producers. DJ Snake, Calvin Harris, and Major Lazer are among the other artists along with The Chainsmokers that have changed the landscape of pop by adding indie-electronic elements to their tracks.
Seeing the success of "Closer", we rounded up our 5 favorite remixes which are all available for free download: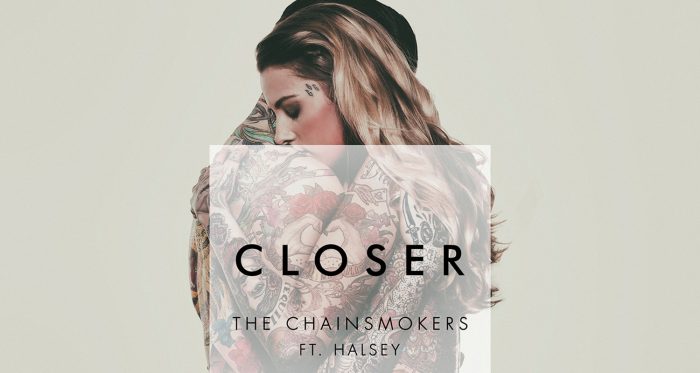 #5: Closer (Crankdat Remix)
Crankdat's remix takes the future bass route utilizing high pitched vocal chops to deliver a bubbly and happy vibe.
#4: Closer (Justin Caruso Remix)
Justin Caruso delivers a great remix changing up the placement of the vocals slightly to make it more of a duet between Drew and Halsey. He maintains the original melody in the drop but adds bright synths to make it an uplifting future bass remix.
#3: Closer (JAUZ Remix)
JAUZ's remix doesn't really fit into a single genre which goes hand-in-hand with his "No Genres/Music Has No Boundaries" creed. The track is divided into a pseudo-progressive house section and a break-beat section led by vocal chops of Halsey.
#2: Closer (Slushii Remix)
Slushii was actually one of the first artists to release a remix of "Closer" and it still remains high in our list. His feels-based future bass is just too good.
#1: Closer (Simone Castagna Remix)
Supported by The Chainsmokers in their festival sets, Simone Castagna delivers an impeccable progressive house remix. It is the epitome of a euphoric festival-ready track and while it might not be the most original production-wise, you can't help but to get a smile on your face when it drops.