Only 17 more sleepless nights until The 23rd run of Nocturnal Wonderland. With the changes made last year to the environment and number of attendees, we are highly curious to see what new additions will arrive this year at Insomniac's longest running festival.
With less than a month to go, it's time to start planning your attack! Where, when and how will you be wiggling? Who's sets are keeping you up at night thinking about? Check out the line up by stage below.
Wolves' Den has served as the main stage to Nocturnal Wonderland since its first appearance in 2016, taking place of the Queens Grounds stage.
Over the years Wolves Den has seen the sounds of many amazing artists, typically hosting big room and progressive house. This year the captivating stage will be home to Bijou, Habstrakt, Illenium, Slumberjack, Blackgummy, Deorro, Slushii, AC Slater, and more! Last year we had the opportunity of enjoying Mija, Excision, and Zomboy. Be sure to gather your pack and head to the Den to catch the hypnotizing display of LEDs and fireworks!
The Labyrinth Stage is known as a fan favorite dating as far back as 2010 with many upgrades along the way.
Hosting live electronic music and heavy bass over the years, this year we will see bangers from Eprom, Liquid Stranger, Dirt Monkey, Netsky, Kill the Noise, Space Jesus, Riot Ten, and more! Last year the stage resembled a nest, and saw the sounds of Autograf, Champagne Drip, Chet Porter, Goldfish, Keys N Krates, Phantoms, Trippy Turtle and more.
Sunken Garden's vibe is like Neon Garden's long lost family member with a touch of Upside Down House.
Last year the stage design was impeccable, the light house design created by Drift created vibes like no other. The aero beacon  and lasers shined far across the festival grounds from atop of the hill at Glen Helen. Paired with the sounds of This Ain't Bristol, it was our favorite spot to be all weekend.
The vibes that the stage brought were nothing short of absolute filth.
This year we will noodle to deep and dirty beats from Dela Moontribe, Nora En Pure, Dateless, Lee Foss, Mikey Lion & Lee Reynolds, MK & more.
This year will be the first year without Temple Noctem, a stage that had typically been a hardstyle stage up until last year where we saw Electric Mantis, Just A Gent, Krane, Wuki and more. It was a beautifully created black lit atmosphere, with mushrooms and a stage that resembled a LED picture frame.
The 1980's ghetto blaster joined the Insomniac team in 2012 and has been bringing filth to events since. Last year the Boombox Art Car was hosted by Cat's & Boot's, this year we will see Fester, Oscar Da Grouch, Scooby, Subcoder, and more!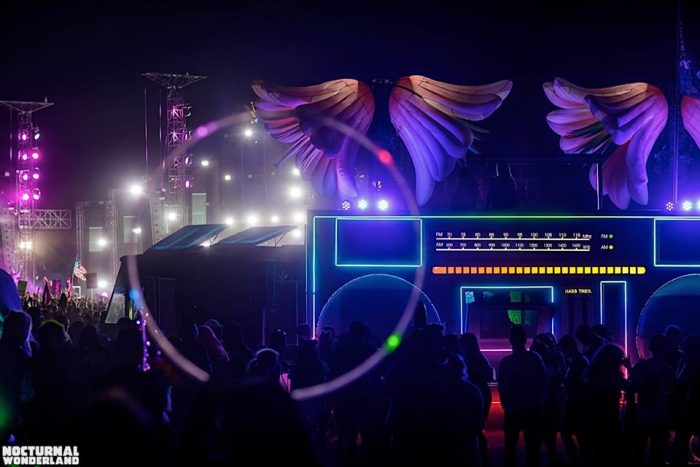 Photo Credit – Nocturnal Wonderland – Boombox Art Car
With just about three weeks to go, be sure you grab your tickets before HERE they're gone!
As many of you may know, camping has sold out but Insomniac has released a limited number of additional tickets, be sure to grab yours while they last!
See you there!
THE ENERGY AWAITS
Follow Nocturnal Wonderland 2018: