As "festival season" approaches, we have been busy curating a list of must attend festivals and gatherings for the 2016 season. Coming together for its third year, Serenity Gathering is one of the top events you need to be at this spring.
Serenity Gathering has a mission statement to help form a better view of what they aim to achieve with their gathering. Their mission is, "To bring happiness through the use of sound and human connection: May you never look at music the same". Their mission rings true through the use of music, art, and human connection.
Putting their stake in a new location, the creators of Serenity Gathering are sure that all attendees will feel right at home at the Lake Hemet Campground located between Los Angeles and San Diego. Everyone at Serenity Gathering is proud to say that they have a great team among them to help uphold the sense of community, love, and positive vibes that Serenity Gathering has established for the last two years.
Serenity Gathering will take place on March 17th-20th, 2016.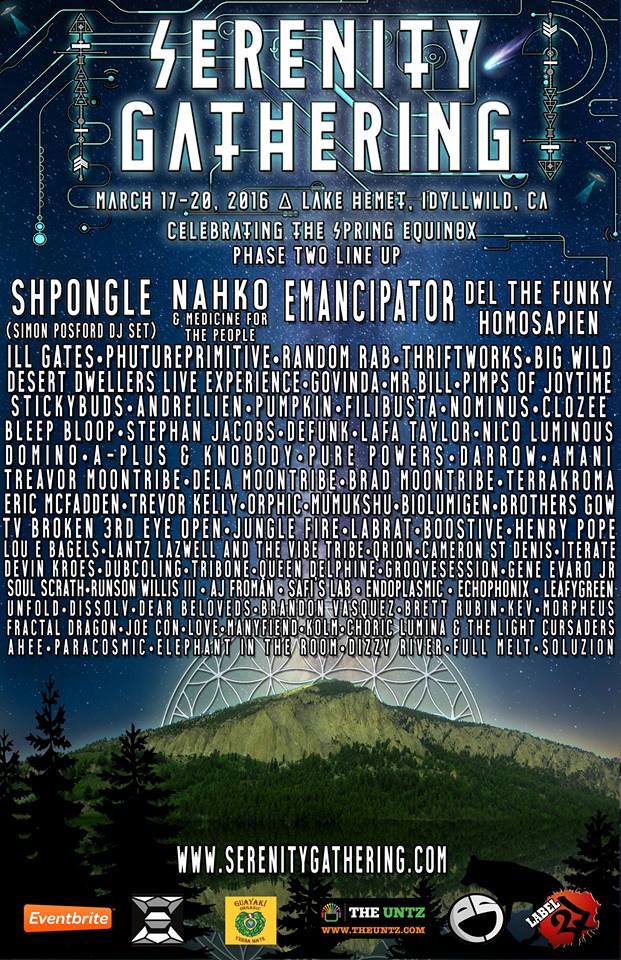 Serenity Gathering makes an epic return with an incredible lineup featuring Shpongle, Nahko and Medicine for the People, Emancipator, Del The Funky Homosapien, Pumpkin, Labrat, Random Rab, and more!
With such a diverse lineup, there is sure to be something for everyone's ears. Along with a variety of amazing sets to catch, are a plethora of art installations to see, endless workshops to attend to stimulate your mind, and so many activities to participate in to get involved in the Serenity community!
You can take our word for it, or you can come experience the positive, magical, and fun vibes that Serenity Gathering will be providing this spring! Passes for Serenity Gathering 2016 are now available to purchase, we suggest you get yours before they run out.
Check out the preview video from last year's Serenity Gathering below.