The aliens came across some minor difficulties amidst their journey to Phoenix Lights 2020, but they will be on their way soon enough and better than ever. Due to the COVID-19 outbreak, Relentless Beats has decided to prioritize everyone's health and well-being by postponing PHXL 2020. While this was certainly not the easiest choice to make and as fans not the smallest pill to swallow, we have to appreciate the consideration.
The new dates for the intergalactic event fall on October 2nd-3rd. Let's be real though, a nice breeze while losing it to Gerry Gonza sounds more comfortable than 100+ degree heat. Take the good with the bad! The best thing to do right now is be optimistic. Below is the initial release to reference the Fall festivity, although some details such as daily lineups may be subject to change! RB is staying loyal to all ticket purchases with the updated dates.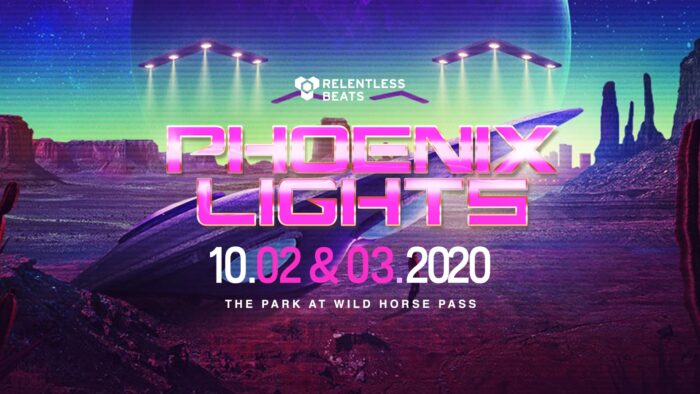 Side note— Within the EDM community, as broad as that term is, we practice good vibes. We thrive off of supporting one another. That said, there is no better time than now to take that attitude and radiate it through these hard times… because this is an extremely difficult situation. Artists and their teams, PR firms, and promotional companies work diligently every day  to make sure we're at solace. They have done their part and they continue to do so by connecting via live chats. They aren't ghosting us, so let's not ghost them. Give them support with their endeavors on Twitch, updates on quarantined in-the-works projects, radio shows, and more! Stay engaged because we are not entitled to any of this and the smallest expression of love and gratitude can go a long way. *Drops mic*
Relentless Beats recently announced the next wave of #PHXL2020 artists to invade Wild Horse Pass, this October 2nd-3rd. Artists included in this latest interstellar communique: Alaska; Avitas; Benson; Blossom; Brondo; Chomppa; Codes; Dack Janiels; Dion Timmer; Dustycloud; Ekonovah; Eptic; Gerry Gonza; Lucii; Murda Beatz; Peekaboo; Pixel Terror; Rampant; Sacha Robotti; Schade; Sharps; Voodreau, and Wax Motif.
Phoenix Lights 2020 Lineup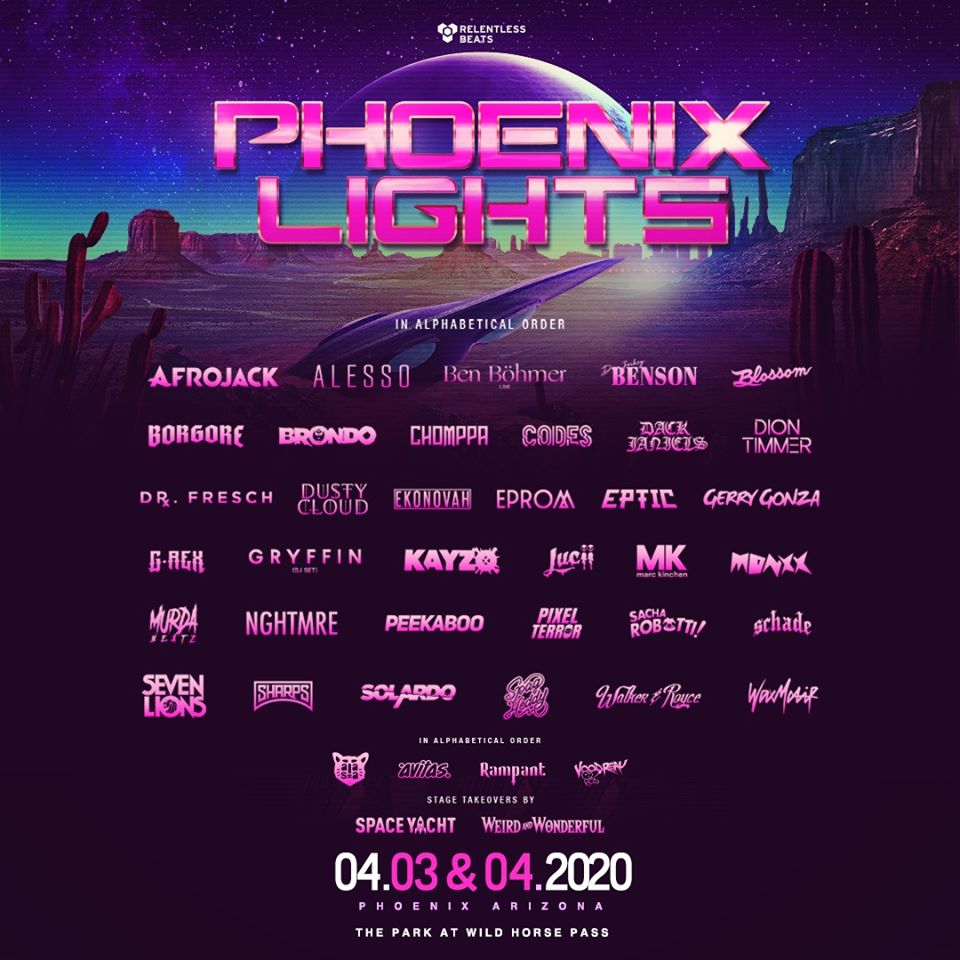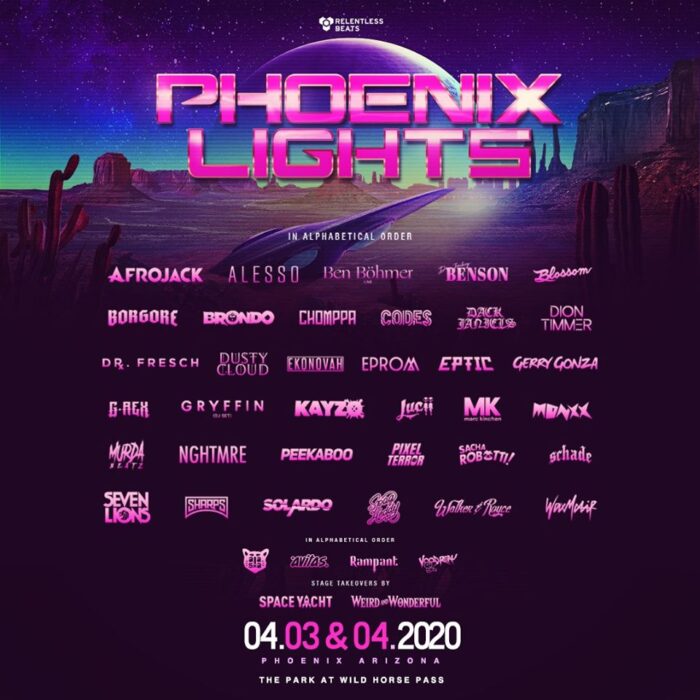 These latest additions to the Phoenix Lights lineup join over 20 previously announced artists, which have now been slotted on their respective days. Artists by day are as follows:
(INITIAL DAY LINEUP) FRIDAY, APRIL 03
Alesso; Avitas; Brondo; Codes; Dion Timmer; Dr Fresch; Ekonovah; Eptic; Gerry Gonza; G-Rex; Gryffin (DJ Set); Lucii; Murda Beatz; NGHTMRE; Peekaboo; Schade; Sharps; Voodreau, and Walker & Royce.
(INITIAL DAY LINEUP) SATURDAY, APRIL 04
Afrojack; Alaska; Ben Bohmer (Live); Benson; Blossom; Borgore; Chomppa; Dack Janiels; Dustycloud; Good Time Jimmy; Kayzo; MK; Monxx; Pixel Terror; Rampant; Sacha Robotti; Seven Lions; Solardo; Spag Heddy, and Wax Motif.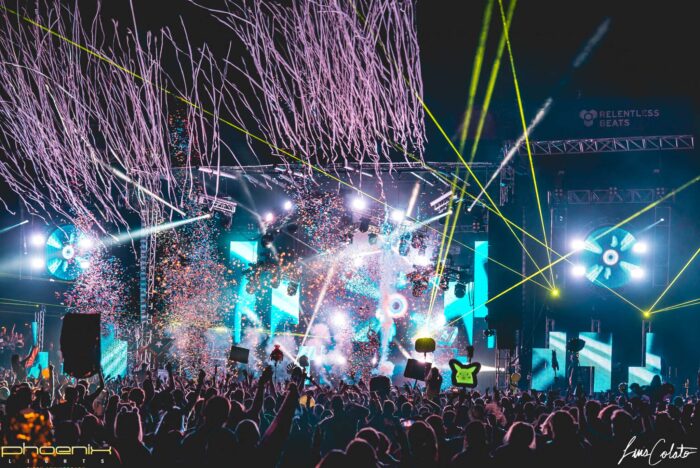 Additionally,  Relentless Beat's First Encounters DJ Competition found its latest star in the making, as Good Time Jimmy took home the grand prize this Saturday, beating out ten finalists for an opening slot at this year's Phoenix Lights Festival.
General Admission weekend passes for Phoenix Lights Festival are on sale now for $169, before fees. VIP weekend passes are available at two levels: Standard VIP, including everything that a GA ticket provides, plus express VIP entrance, a commemorative lanyard, access to VIP lounge, access to the VIP pit, premium restrooms and passed desserts in the VIP areas. Platinum VIP includes everything that the Standard VIP pass includes, plus: four complimentary drinks, side stage viewing at the main stage, access to artist hospitality lounge, catered dinner, exclusive festival gift bag, and festival concierge. You must be 21+ to purchase Platinum VIP passes. All details and ticket types are available online at www.phoenixlightsfest.com and www.relentlessbeats.com. Phoenix Lights is an 18+ event.
The sixth annual Phoenix Lights Festival will take place at The Park at Wild Horse Pass, October 2nd and 3rd, 2020. Produced by Relentless Beats, Arizona's leading dance music and EDM additional artists will be announced in the coming weeks, as further transmissions are received. Visit www.phoenixlightsfest.com for the most up-to-date information. Stay connected on Instagram and Twitter at @PHXLightsFest and Facebook at www.facebook.com/PhoenixLightsFestival.
Watch the official PHXL 2019 after movie: