The independent imprint from Brighton UK, Zulu Records, just hit a milestone, their 200th release. The label  started back in 2012 as a platform for My Digital Enemy to release house records on their own accord. Over the years the label's releases have garnered support from world renowned talent and have definitely been the cause of countless euphoric moments on the dancefloor all around the world.
Zulu Records 200th releases is by Israel's Boris Roodbwoy and Las Vegas's Mighty Mi featuring vocal talents of chart-topper 'Princess Superstar'. 'Kootchi' is a slamming house track that is chockablock with groove and feeling. To top it off, My Digital Enemy comes out of a 3 year hiatus to offer a tech house remix to really turn up the dancefloor.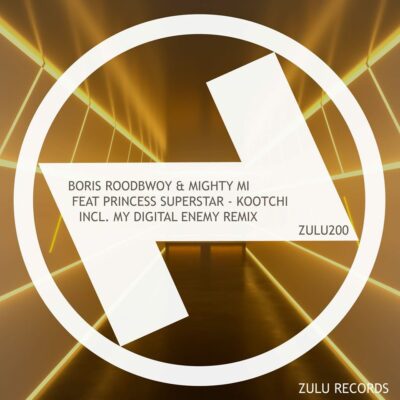 DownloadBoris Roodbwoy & Mighty Mi's 'Kootchi' and MDE's remix. To help the 200th release we chatted with the label heads, Serg and Kieron to hear the story of Zulu Records thus far. Listen to Zulu's bigger releases as you read their story and learn some music industry tips of running an independent record label.
Hey Serg and Kieron, thanks for taking the time to answer some questions for us. Please tell us a little about your electronic music journey thus far, starting with the first set by My Digital Enemy. What has been one of your favorite moments under the moniker, MDE? 

Hello.  Thanks for having us! We started My Digital Enemy way back in 2006.  Before that we were doing trance & house under various different names, you'll have to Google them though. Lol Our first MDE gig was in the bar area at Ministry Of Sound in London. Those were the days where the DJ box was right in the middle of the dancefloor.  It was great fun as you were on the same level as the clubbers with them surrounding you. Happy days, shame they moved it.

We've had so many awesome moments as MDE but one the springs to mind is playing to 20,000 people at the Oldenbora Festival in Germany.  That's our biggest crowd so far!
When did you feel it was time to launch your own label? 
In 2011 we had a lot of releases coming out on various labels, and as much as we tried to plan the schedule we found labels changed dates (sometimes without telling us) which meant we might have two releases on the same date, then a large gap in the schedule.

We decided to start Zulu Records so we could have more control over the releases.  It all paid off as within our first 6 releases we had 2 Beatport top 10 tracks.
Your releases have seen support from some of the biggest names in house music such as Mark Knight, Thomas Gold, Sam Devine and Benny Benassi. How have these guys recognized Zulu releases? 
Mark Knight was a big supporter right from the start.  We have always worked closely with Toolroom and gave them first refusal on a lot of our My Digital Enemy tracks.  Mark licensed our track 'Reaper' which was the fifth Zulu Records release for Toolroom Ibiza in 2012 and it went on to be massive and provided the perfect launchpad for drawing attention to Zulu Records.

I have built up a really great promo list which gets to all the big name DJs. The music really speaks for itself, I'm lucky to have such great artists releasing on Zulu that the top DJs are happy to listen to every release and support if they like it.
Which Zulu Records releases have seen the most success? 
 My Digital Enemy & Jason Chance – Got To Be Strong (Jul 2012) 

Continuing on with the tribal fused house beats that we had started the label on, Got To Be Strong hit number 1 on Beatport and stayed in the top 10 for two months.  It was fair to say at this point Zulu had established itself as a force to be reckoned with.
Peter Gelderblom & Randy Colle – Got To Be Good (Jun 2014)

We still play this track now, as does Duke Dumont.  It really is testament to how good it is. Proper house vibes and a serious amount of energy.
My Digital Enemy – Jack My Body (Feb 2015)

This was our first track to be played by Annie Mac on BBC Radio 1.  A really turning point for us for the label.
With any particular release, what are your goals for the record? What steps do you take in hopes to achieve your benchmark for each release?   
The goals we have always aimed for are Beatport chart success and DJ support across the globe.  More recently streaming has come to play a big part so now we push every release for Spotify to try to get in their playlists.  I also has a good relationship with Toolroom who have been great with supporting Zulu tracks in their Toolroom playlists.
What have you enjoyed most about running Zulu Records? What are the biggest challenges? 
The biggest challenge is in keeping true to the sound you have developed.  Trends come and go and you have to be aware of them and take some on board, but also be careful not to stray too far from what gives your label its identity.
How are you discovering new talent?  
I have a demo email which anyone is free to submit music to.  I have picked up lots of material from new artists and love the fact that Zulu can be a platform to launch them on to bigger things.  Success stories that have started on Zulu include Lucas & Steve who signed their track 'Craving' to us just before they hit the big time and also Alaia & Gallo and PBH & Jack Shizzle all started with tracks on Zulu.
 How do you distribute a new release?    
Labelworx take care of all my distribution.  I am so pleased with their service and recommend them to anyone starting a new label.  It really makes the whole process so much easier having a decent Distributor.
Are you using repost networks or sending the tracks to DJs and tastemakers directly? Are there any tricks of the trade you can share with any aspiring independent labels? 
I send directly but there are so many services out there.  If I was starting I would use a recognised promo service and then compile my own list once the DJs become aware of the label.  The important thing is to post thanks to anyone supporting your music and also share links to their radio shows, then it helps them as well as you.

Also this might seem obvious but you need to decide on a genre and stick to it to start with.  It's easier to become recognised if you can do one thing really well. If you swap between genres on every release its hard to build that quality brand and its also harder for people to remember your label.  You need to build a core fan base across one genre.
Zulu Records Online: facebook | Twitter | Instagram | SoundCloud | Website