Less than 48 hours after officially going on sale, Electric Daisy Carnival (EDC) Las Vegas 2020 has sold out of all GA, GA+ and VIP tickets in record-breaking time. Approximately eight months before the festival gates open—and prior to the release of a lineup—the sold-out announcement marks a milestone for the festival ahead of its 10-year celebration Under the Electric Sky. With 500,000 Headliners expected to fill the Las Vegas Motor Speedway from dusk till dawn on May 15-17, 2020, the internationally acclaimed festival will be the most enhanced experience that Insomniac has produced and maintains the show's position as the largest dance music festival in the world.
Insomniac Founder & CEO Pasquale Rotella took to his Instagram to break the news:
"Thank you, EDC Las Vegas Headliners. The success of this festival and the magic of EDC would not be possible without you. I can't wait to be with you Under the Electric Sky!"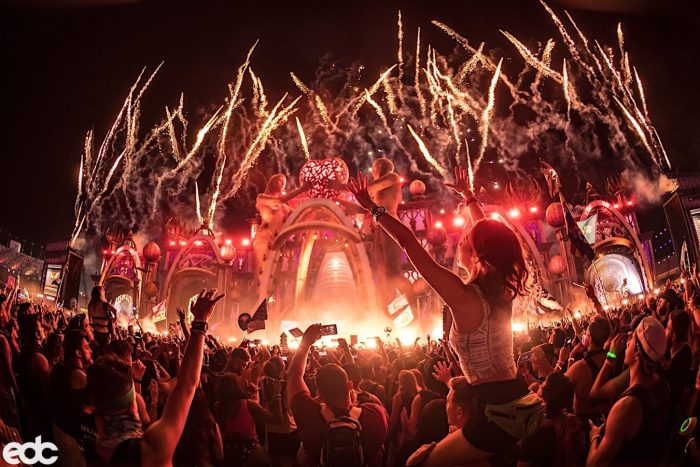 Fans from across the globe have traveled to Las Vegas to experience the magic of Electric Daisy Carnival. The festival's infectious energy, creativity and overwhelming feeling of acceptance and community have drawn more than three million attendees from nearly 100 countries and all 50 states since its move to Las Vegas in 2011. Transforming nearly 90 percent of the Speedway's 1,200 acres each year, EDC delivers an unrivaled experience complete with over 200 dance music artists, groundbreaking interactive art installations, innovative stage productions, full-scale carnival rides, captivating costumed performers, and a nightly fireworks show that rivals that of the Olympics.
Amidst an entirely new festival layout utilizing parts of the Speedway having never been used before, the 2019 edition of the festival brought forth an unparalleled audiovisual playground for the imagination. New stage designs came to life across six of the eight iconic stages, including a massive kineticENERGY stage that spanned over 450 feet long and 90 feet high. The festival also featured 46 colorful, theatrical performer troupes, including dancers and stilt walkers who interacted with those in attendance throughout the three-day event. In addition to the many carnival rides—and EDC's trademark Ferris wheels—new areas of the festival like Downtown EDC, Pixel Forest, and Nomadsland debuted this year to rave reviews. Adding to the creative atmosphere, 13 interactive art installations were spread throughout the festival grounds for Headliners to explore.
To stay up to date on all Electric Daisy Carnival news announcements for the 10-year celebration in Las Vegas, please visit www.electricdaisycarnival.com, EDC Facebook, EDC Twitter and EDC Instagram pages.