Keratin hair extensions are among the most popular and most popular methods of thickening and extending hair. What is it about? How much does it cost? How to take care of hair extensions to make them look beautiful even a few months after treatment?
Hair extensions for keratin are very popular among Polish women who want to add length and volume to their hair. No wonder. This method is very common, well known and safe. It allows you to achieve predictable, consistent with the expectations of your clients. Without unpleasant surprises, frustration and profession.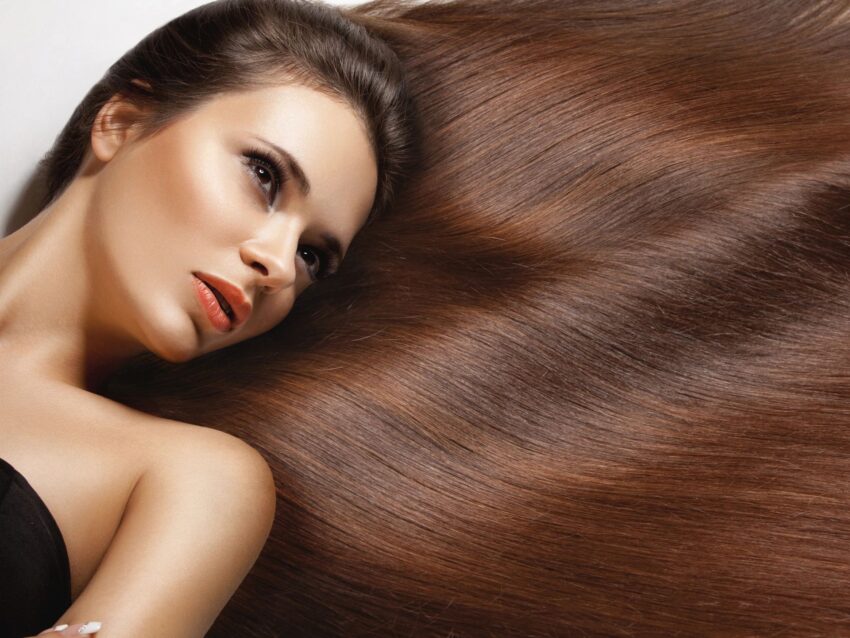 What is a keratin extension?
Hair extensions for keratin consist of combining a thin strand of natural hair with an equally thin attachment ending in a keratin tip. To perform the procedure the stylist uses a special welder. This one, emitting high temperature, permanently combines both elements.
The effect of the extensions is very natural, and the places of connection are completely invisible. Although immediately after the treatment you may (but you don't have to!) feel a slight discomfort resulting from the additional load, after one – two days there will be no trace of it.
A great advantage of this method is the possibility to create any effect. For the treatment you can use bands of your preferred length (even 60 cm!), so that in just a few hours you will achieve your dream effect, e.g. from a fierce boy you will become a female seductress.
For whom is the extension for keratin?
Due to the need for high temperature, keratin hair extensions are especially recommended for healthy hair in good condition.
If your strands are delicate, prone to falling out and weakened by hairdressing treatments, consult an experienced stylist before choosing the method. His skilful eye will certainly assess in a few moments whether the keratin method will be suitable for you.
How much does keratin hair extensions cost?
Although the cost of the treatment depends on several factors (the quality of the hair extensions and their number, the experience of the stylist and the reputation of the salon),. The average price of hair extensions is from 500zł
Keratin hair extensions – lasting effects
If the hairdresser uses a good quality natural hairpin, the effect of the treatment will last up to 6 months. Remember, however, that the results are not only influenced by the stylist, but also… You alone.
Do you want your hair to look beautiful for as long as possible? Take care of the proper care! Remember to pull up your hair regularly!
Hair attached to keratin – how to take care of it?
You can treat natural hair extensions just like your hair – colour it, blow-dry it, curl it and straighten it. But remember that unlike your hair extensions, they have no source of internal moisture. To keep them looking beautiful for as long as possible, you need to moisturize them regularly and treat them with a lot of gentleness.
– Use only mild moisturizing shampoos to wash keratinized hair extensions. Especially those for attachments. For example, the Rich Repair shampoo from Goldwell will be a great choice.
– After washing, massage the mask. It will make the hair smooth and shiny ), which will regenerate weakened hair structure. When applying the cosmetics, avoid the weld spots. The ingredients may weaken the welds.
– Wash hair with lukewarm water, directing the water stream from top to bottom. This will effectively close the scales and keep the hair smooth.
– Avoid rubbing your hair with a towel too hard. After washing, wrap your hair in a turban and gently squeeze the water.
– To prevent split ends, use Goldwell tip serum
– Brush your hair several times a day all the way through. Use only a brush designed for extensions. Ordinary brushing can cause the joints to break or weaken and can lead to faster loss of strands.
– Every day, find a few minutes to separate the individual strands at the height of the joints. This will reduce the risk of strands being broken off and unsightly knots being created.
– Tie your hair in a tight braid before going to sleep. This way you will protect the joints and prevent tangles and entanglements.
– Before each heat treatment, use a protective spray. If possible, use a hair dryer, flat iron and curling iron sensibly. The high temperature is conducive to excessive drying of the bands.
– Before going out into the sun, use a UV protection product.
Viola Hair Extensions offer special products: nano ring hair extensions, human hair extensions and micro rings. Do you try?