Chris Yoder, aka "Yoder", is an insanely talented videographer and photographer for artists, festivals and nightlife. His work will pull you in and make you feel like you went to an awesome show and then got to hang with the artists backstage.
He's recently been with The Chainsmokers, Carnage, DJ Khaled, Lil Jon, DJ Snake, Yellow Claw, Snails, Marshmello and Zomboy in different locations all over the world.
Even though he is currently filming with The Chainsmokers on their tour,  he sat down to talk with us.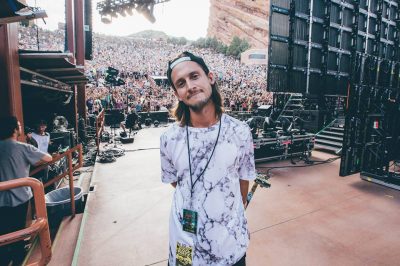 1. I've read that you went to college in Chicago. To my knowledge, there's not a degree you can get to become an EDM videographer.  What did you go to school for? and how did you decide you wanted into the EDM video scene?
I actually went to school at Illinois State University and graduated with a degree in Political Science. Videography and photography was a hobby during my college years then eventually just lead into a career. I started making music videos for local artists then stepped into Chicago's nightlife scene. From there I started working with local artists, venues and promoters. I eventually worked my way up to working for a well respected company named React Presents that holds some of Chicagoland's biggest festivals and venues. After working for them for a year or two artists started contacting me directly.
2. Who is someone you really admire in the edm world? Why?
Bad Boy Bill. He has really set the bar and path for what "EDM" has evolved into today and I think people like Bill deserve a little more recognition. 
3. If you weren't a videographer what would you be doing?
I was actually lined up with a job out of college at an insurance company selling insurance. When I realized I had the opportunity to possibly make a living off of what I am doing now. I turned down the opportunity with the insurance company straight out of college, moved to Chicago, couch surfed for several months while making the bare minimum w/ weekend shoots. Eventually found a studio that I rented out for another several months then got to a point after a year and a half that I was making enough money to rent my first "real" apartment.
4. You've made a lot of EDM based videos. What's your favorite thing about shooting EDM concerts? and what about the edm scene keeps you coming back for more?
Building relationships and working directly with artists. Especially artists that bring energy and life to a crowd. 
Speaking of artists that bring energy to a crowd. Check out this video Yoder created with Carnage:
5. You've inspired a lot of people to get into concert videography / photography. What camera gear is your go-to? and what do you recommend for a beginner?
I've shot on a lot of camera's but the one I use most and continue to use while on the road is a Canon 6D. My go to set up when shooting most venues or festivals is a Canon 6D w/ a 16-35mm lens along with a glide cam for stabilization. 
6. If you could shoot video for anyone who would it be? In concert and/or for a music video.
Being from Chicago, I've always admired Chance the Rapper, especially recently with everything that he's doing. I've always enjoyed whatever kind of music he puts out and it would be an artists that I could create content for outside the "EDM scene". 
7. Most memorable thing you've seen at a concert?
I'm not so sure it was something I've seen but rather "experienced". Growing up i've been going to Lollapalooza Chicago for years. Last year I shot for DJ Snake and Carnage and during Carnage's set I had a moment where I looked out a thousands of people and remembered being out in that crowd years prior. Carnage was playing a sun set time slot, with the view of the city in the background, it was a moment I briefly reflected on mid set and realizing how far I've come over the past couple years from what started as a hobby.
8. Favorite concert venues?
Favorite concert venues… Concord Music Hall (Chicago, IL).  Bootshaus (Germany). Red Rocks (Denver, CO).
9. Do you have any advice on how to become a videographer?
Network, brand yourself and try to improve your skill daily. Networking for me was the biggest thing I realized to making it. Know who is who in the industry and what roll they play, from the artists to who their management is. Brand yourself and find a unique name that no one else has and make it your own. Improve your skill daily by trying new things whether it be editing, shooting or buying new gear or glass.
10. You've traveled the world with The Chainsmokers, been on stage with DJ Khaled at Ultra, seen Carnage get in a fight backstage…what's next for Yoder?
A busy festival season. Summer is right around the corner and I've got a lot of festivals this summer and a little less touring. A project I am looking forward to most this summer is helping good friends over at Cinesthetics edit the Official After Movie for Electric Forest this summer. 
Follow Yoder: