EDM fans set your calendars for March 4th and 5th for what could be the biggest live music event of the new year. EDM legend Kygo is joining forces with media production company Moment House for a two-day live stream concert atop one of the snowy mountain peaks of the Sunnmore Alps in his home country of Norway.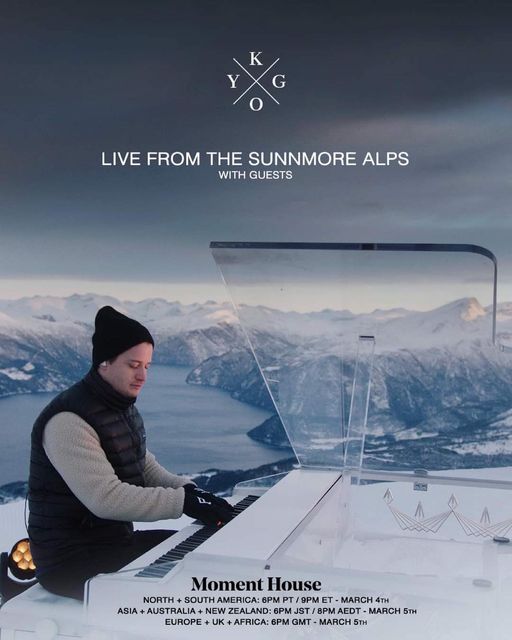 He will be performing all of his greatest hits along with some other unique mixes he has created specifically for the show. Moment House is on the rise and with the creation of their live stream shows they call "Moments", you can expect to see more unbelievable artists jumping on board to work with this fantastic company. 
The show will be broadcast worldwide to North and South America, Asia, Australia, New Zealand, UK, Europe, and Africa. Fan and Spotify presale tickets will go on sale February 10th at 10 am local time, while general sale will begin on February 12th at 10 am.
In celebration of the performance, Kygo will be will offering fans limited-edition Merch, X by Kygo headphones, and Vinyl copies of his recent album Golden Hour.
On top of all, Kygo and Moment House are teaming up with Go Puff to help fans get their favorite snacks at a discount during the show. Anyone tuning in will receive a 10 dollar discount on your go puff order placed leading up to or during the show to help increase the at-home experience. Kygo is one of the best to ever grace the stage, and this will be an experience you will not want to miss!!!
LIVESTREAM DATES/TIMES BY TERRITORY:
North & South America
March 4th, 06:00 PM PT / 09:00 PM ET
Asia, Australia & New Zealand
March 5th, 06:00 PM JST / 08:00 PM AEDT
Europe, UK & Africa
March 5th, 06:00 PM GMT
Kygo Socials: