During this unprecedented time, we're hit with this storm that we can all agree is vile… but restaurants will open and people will soon return to the office where they have adopted CDC safety requirements. But what about concerts? What about festivals that host nearly 200,000 attendees who depend on the scene for mindfulness and mental health?
Aside from the crowd, what about the artists who dedicate a lifetime to touring? Those who have embraced life on the road and studio time on the side, but don't know life outside of music. All of the crew… management… family. Our community lives off of experience and face-to-face interaction. The pressure of becoming tech-savvy and experimenting with live streams is acute. The moral of the story is, we'll get through this. We'll consolidate and return with a plethora of enticing music.
With that being said, we adopted the new norm of email-interviews and first on our list is Grammy-nominated singer/song-writer Justin Jesso. His feature on Kygo's multi-platinum record 'Stargazing' has become a staple in his career, yet doesn't define or limit his talent.
Quarantine hasn't slowed down this Chicago-beaut, as he recently debuted his newest single 'If You're Meant to Come Back', which has already amassed over one million plays on Spotify. Side note- his virtual release party is what every music release should look like during a pandemic.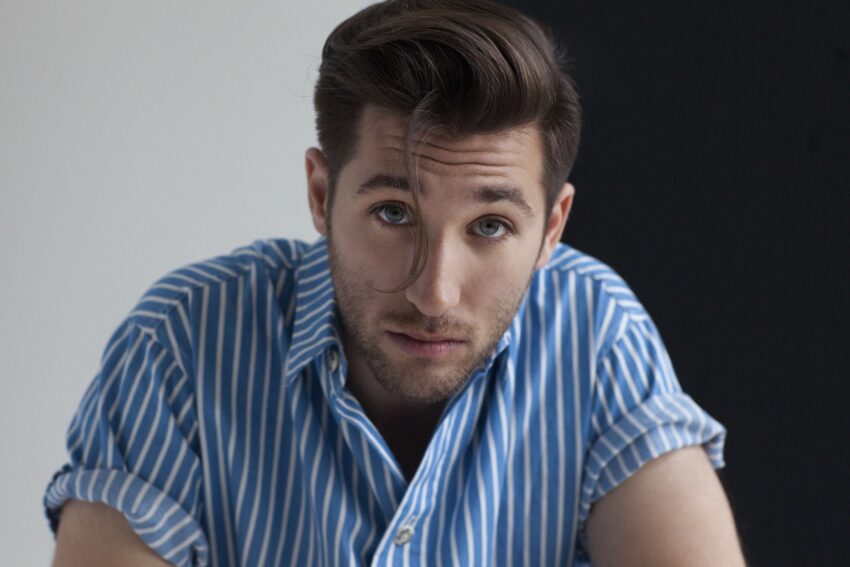 So you were born and raised in Chicago! I love Chicago. I'm from Ohio, but for a few years my mom lived in Chicago, so I'm somewhat familiar with the city. A lot of artists write from experience. Are there any songs that you've composed that hold sentimental value to Chicago? To elaborate more, is there a song that strings a story from that one time in Chicago? A breakup? A childhood memory? A drunk night in Wrigleyville?
I love Chicago too! One of my favorite things to do in Chicago is the architectural boat tour!  I know it sounds nerdy, but it is awesome I promise, check it out! I'm not sure I have a song that directly ties me to Chicago that has been released recently, but I grew up writing songs in Chicago. Most of the songs that are out in the world now, however, were written after I moved away either in LA, NYC, or on the road.
I recently watched an Instagram livestream of you. Your dad made a brief feature right before you played the piano. It seems like you're very close with your family… while touring, how do you cope with being away from them? How do you overall cope with homesickness while on the road?
Haha yes we are very close for sure. I love what I do, so I don't miss home too much when I'm on the road… I keep pretty busy with shows and promo… and I love meeting people. That's my favorite part, connecting with people who are affected by the music.
While we're on the topic of family, are you the only musician in the family? How did you get into music in the first place? Was piano the first instrument that resonated with you or where do your roots lie musically?
I am!  Well I am now. My last name, Jesso, is my great grandfathers nick name. He was a bandleader in the 20's who used to play piano for Al Capone, a famous 20's mobster. I took Jesso as my last name to honor him. I was the kid who always went for the toy microphone over the plastic football. I started performing when I was five… my grandma put me in a community talent show and I was hooked.

I got off the stage, turned to my mom and said, "This is what I want to do for the rest of my life."

I started piano when I was four and grew up listening to old soul music like James brown, Otis Redding, Bill Withers, Earth Wind and Fire, Stevie Wonder, Michael Jackson, Aretha Franklin, Whitney Houston…
You have a beautiful voice that can thrive in any genre, but I have to say… it just hits differently in 'Stargazing'. Would you consider yourself a tropical house fan? Did you grow up an avid listener of dance music or what kind of music do you connect with the most?
Thank you :). Haha I'm a tropical house fam yeah… I'm a kygo fan… actually, no, I didn't grow up listening to much EDM. My brother introduced me to Kygo though a couple years prior to 'Stargazing', and I always liked his music. It's so easy and universal. I grew up listening to Stevie Wonder, Michael Jackson, Earth Wind and Fire, Aretha Franklin, Whitney Houston Bill Withers, Otis Redding. I love old soul music.
With that, you have gained immense traction from 'Stargazing'. If you could choose any of your songs to be forever known by, would it be that or what song would you like to forever be known by?
Hopefully its a song that has yet to come out… I'm always writing and hope the newest release beats that which comes before it.  Right now, my latest is 'If You're Meant To Come Back' – a song I absolutely love.

It's a slow burning ballad that spreads the message that what will be will be.

If it is meant to be then it will.  I decided to release it now because I felt the world would resonate with it.  We are in this hopeless place… we need to know that the love that we may have lost, or that person that we can't see right now, if they are meant to come back, then they will.  We are all meant to come back together.  We need that hope right now.
Not only have you collaborated with Kygo, but you have also toured with him. Can you talk to us about your relationship with Kyrre and how it has developed over the years? Can we expect more Justin Jesso x Kygo collaborations?
Yes you can. Not sure when, but you can 🙂 Love Kyrre, he's a great dude.  Its been fun getting to know him over the past couple years.  From some crazy nights out, to just hanging in a trailer before show, he is really just a good, humble, happy dude.
You just released 'If You're Meant to Come Back'. If you had full creative power on a music video, what would be the vision? What would the video look like?
Ha, well.  Music video coming soon, so you might see that 🙂
You are a Grammy-nominated songwriter. What do you consider to be your best work? Also, a lot of people think the chorus is the most important part to a song, but what do you think is most important part to a song? Do you have any tips for songwriting?
Chorus is definitely important :). Study the greats, study where lyrics are today and what people are saying.  Understand the way things are being said, and then say something unique and different.  Its a 10,000 hour game.  You gotta just keep writing to get any good. Its easy to write good songs, but incredibly difficult to write great ones I think.
COVID and life in quarantine has been a huge struggle. The music industry has taken a pretty big hit. Artists are testing their knowledge on live streams, virtual shows, and at-home music production. What is something you are teaching yourself during this time off? What is something you are learning even outside of music?
I'm learning German! Im not very good at it.  But I'm trying. I finally gave in and got a Zoom account.  So now I can have meetings that last longer than 40 minutes haha!
On top of COVID, we are also challenged with the opioid epidemic. Although this is a global issue, music concerts and events act as a huge hub for drug abuse. What is some advice to those who feel like they can't attend shows sober?
Wow. I am so sorry to hear that people feel that way.  I understand that this time is incredibly difficult, making it even more desirable to escape. Sometimes that is okay.  But if you have a problem with substance abuse, you should definitely seek help.  There is national help.
What can we expect from you during and after the pandemic?
Honestly, I'm not sure.  Live streams.  Content.. more music being created, more music being released. After the pandemic, I'll hit the road and play for as many people as I possibly can!
Once message to your fans!
Hang in there .  If we are meant to come back to gather (and we are) then we will!
Thank you Justin for continuing to put yourself out there and connecting with avid fans via live stream. You and your music are shining light during this gloomy, eerie time. We appreciate and adore you.
Follow Justin Jesso: