This is a trap and dubstep free remix EP by Jayne Gray titled "Gucci Jayne Vol. 1" Jayne Gray is a music producer, rap vocalist, and DJ based in Los Angeles, California.
Her vocals are featured in tracks signed to Street Ritual and Heavy Traffic Recordings. She is working on building up her own record label/hip-hop production website, Bad Talent Records.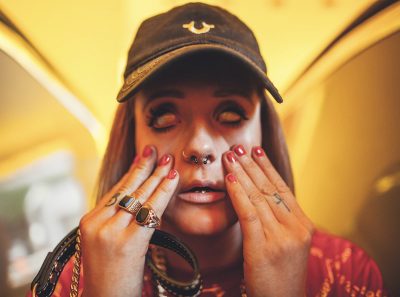 In her own production, Jayne favors bass-heavy genres such as dubstep and trap. She likes to incorporate hip-hop/rap elements into her tracks, either with her own vocals or working with a vocalist. Her tracks tend to reflect the darker side of popular electronic dance music.
Jayne Gray just dropped an independent EP on April 9th titled Gucci Jayne Vol. 1 that features a hybrid trap remix of "Get the Bag" by Gucci Mane, a dubstep original, and a slow bass jam remix. She has plans to drop an all female hip-hop album later this summer.
Jayne grew up in rural Virginia and began recording herself rapping under the name Queen's Habit at 16. She moved to California when she was 18 for school and music. She became connected in the electronic music scene by volunteering to work the ticket booth and clean up after events. She then bought a DJ controller and taught herself to DJ and produce in Ableton. After two years of DJing at festivals such as Santa Cruz Music Festival, Emissions West Coast Bass Culture, and Stilldream, and opening for acts such as Nitti Gritti and Bonnie and Clyde, she moved to Los Angeles where she currently attends Icon Collective.