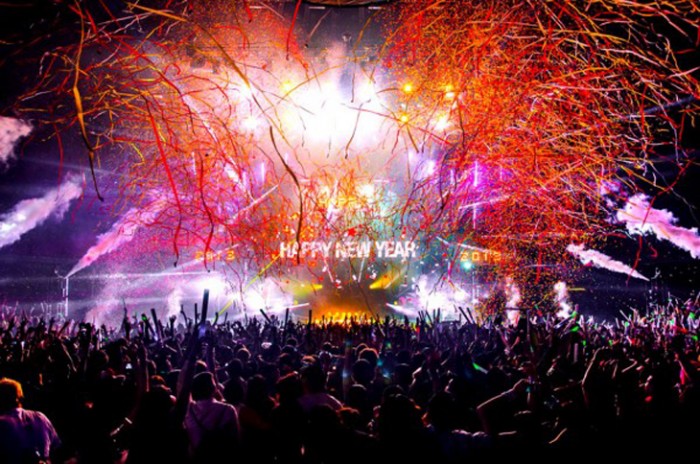 It's that time of year again that we are united for an unforgettable New Year's Eve celebration at The City of Decadence.
Denver, Colorado is just one the many places you will want to find yourself on New Year's Eve if you consider yourself a fan of electronic dance music.
What better way to ring in the new year than with a stacked lineup featuring Bassnectar, Big Gigantic, Armin Van Buuren, Zedd, and Kaskade as headliners? With the biggest names in EDM taking over the Colorado Convention Center, the stage is set for some memorable moments in the Mile High City.
Returning for the second year, the celebration is serving up some juicy tunes across the lineup. Check out who you'll be seeing during one of the most appealing New Year's Eve EDM festivals in the nation. Stay tuned for set times and more artist announcements through Decadence Facebook page.
Decadence returns to the Colorado Convention Center from December 30 – 31. Tickets are still available and can be purchased by clicking here.
Don't miss out on what's sure to be one of the best New Year's Eve EDM festivals of the year.
Check out our 7 artists you won't want to miss if you are attending Decadence 2014.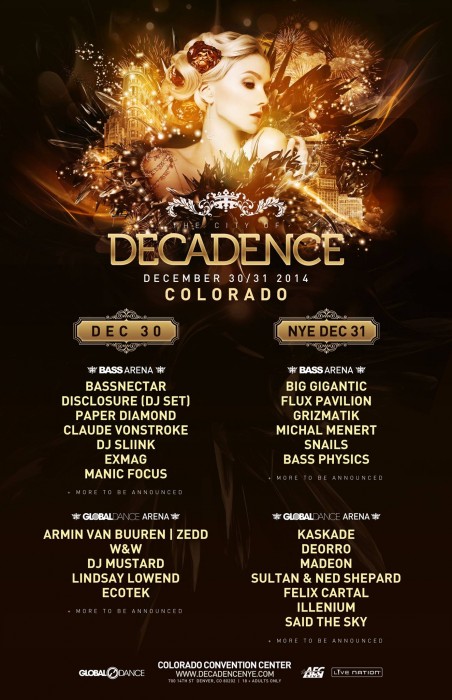 Snails
SNAILS is a Montreal-based producer and DJ who combines hip-hop rhythms, dirty bass lines, and off-kilter sound design. Snails released his first tracks in 2012 and immediately gained a devoted fanbase. One can look forward to some huge drops and sound manipulations when listening to anything made by the Canadian product.
Snails has been recognized by artists such as Skrillex, Diplo, Datsik, Excision, Flosstradamus, and many more bass savvy icons. If you enjoy any of those artists, then you're sure to enjoy the music Snails is about to bring this NYE.
Take a listen to one of his most popular songs "Dirty Raxxx" ft. Panther.
Exmag
Exmag is an East Coast based producer who blends soulful sounds that take listeners into the future. Representing Gramatik's Lowtemp Record fam, Exmag is made up of Eric Mendelson, Tyler Dondero (aka SuperNicer), Mike Iannatto, and the illumntr. Together, these dudes craft sensual soul in electronic form.
Check out this original called "True Love From The Future."
Lindsay Lowend
Lindsay Lowend is a bass music prodigy from Washington, D.C. Inspired by video games, Lowend has come to refer to his productions as "neon music." He relates his music to artists such as Alizzz, Wave Racer, AWE, Deon Custom, and Bo En with influences extending from Analog and Jazz.
Here's a little preview of Lindsay Lowend with his remix to "Prom Night" by Anamanaguchi.
Illenium
Illenium will be taking the stage at Decadence in the Global Dance Arena December 31. Best known for his Bassy-Dubstep stylings, he is quickly becoming a well-known producer. After relocating to Denver from San Francisco, the hometown beat crafter will be right at home as 2014 comes to an end.
Listen to Illenium's remix on Odesza's song "Always This Late" and take advantage of its free download.
Madeon
Hugo Leclercq is a House producer well-known for his video "Pop Culture" which earned him worldwide recognition. In 2012, Madeon broadcasted his first EP "The City," earning invitations to perform at major electronic dance music festivals including Ultra Music Festival, Coachella, Lollapalooza, and EDC NY.
With a fresh record deal and a new album around the corner, big things can be expected from this set.
Bass Physics
Bass Physics, a duo consisting of A.P. Adair and Luke Sims, is known for blending soulful electronic beats with live guitar and keys.
Another hometown product, Bass Physics made their first festival appearances in 2013 at Sonic Bloom, Global Dance Festival, and the first edition of Decadence. There is no doubt these two will put on a great show this New Year's Eve.
Why else would they be returning to Decadence for a second year in a row?
Big Gigantic
Big Gigantic will be throwing down during the countdown to 2015 at this year's Decadence.
An instrumental livetronica, hip-hop and jazz-centric musical group based out of Boulder, you can bet Dominic Lalli and Jeremy Salken will bring their A-game.
What better way to wrap up 2014 than by the hometown heroes who had an epic year? Between the release of their album The Night Is Young and worldwide festival appearances, Big G had as great of a year as any.
Don't miss out on their set as it's sure to be a memorable one.
Who are you most excited to see at Decadence 2015?
Be sure to leave us a comment and let us know!
Photo via Decadence/Facebook