How cool would it be to have your passion become your job?
Some of us long to break in to the music industry but do not necessarily possess the talent it takes to produce or play an instrument. No worries! There are plenty of other ways to get involved with your passion.
There are tons of awesome jobs in the electronic dance music industry that allow you to get involved.
Here are 7 jobs that would be dream careers for any EDM lover.
1. The After Movie Producer
As the aftermovie producer, you get to provide people with an image that will stick with them forever. It's your job to sum up an amazing event into just a few minutes. This job requires some crazy editing skills, creativity and an eye for detail.
Check out this aftermovie from Ultra 2012. One of my favorites out there!
2. Photographer
What better way to get up and personal with artists and ravers? As the photographer you get to interact with the crowd and capture moments for ravers and artists that will stay with them forever. You'll be able to get your work published and hopefully with time, get more gigs.
Freelancing allows you to travel on your own time and utilize your creative freedom. By submitting your photos to various blogs and other publications, you might even be able to obtain press passes to cover music festivals and other events around the country for free.
Check out this picture  of Krewella from Sunset Music Festival in 2012.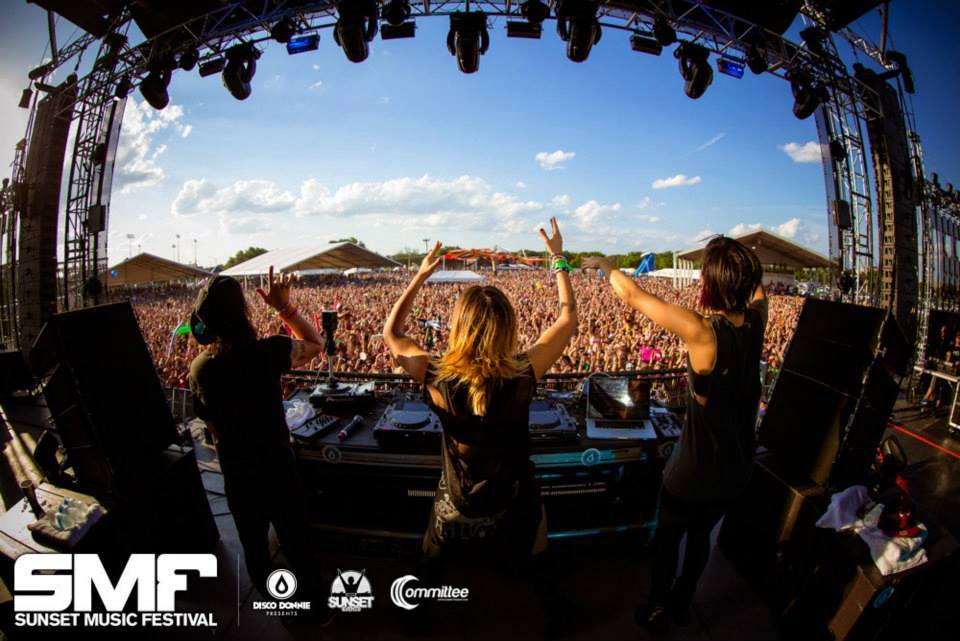 3. Public Relations Director
How awesome would it be to be the eyes and ears of a DJ? As a public relations director you get to be the voice of the DJ. It's basically your job to make sure they always have a good reputation and any news they want the public to know, you deliver.
This job requires you to be on top of your game all the time, and be very knowledgeable about all news in the EDM world. You basically get to manage a DJ's schedule and plan events, write press releases, etc. Who wouldn't want to do this?
4. Graphic Artist/Web Designer
If you're artistic, this job is for you. This person basically creates the logo and overall brand image of a DJ.
The logo and web design for a DJ defines them in a way that separates themselves from other DJ's, which means the graphic artist must be very clever and creative, and be able to understand what the artist wants the audience to see.
Check out this logo for Bassnectar. No other artist uses this font, making it stand out and stay memorable for the listener.
How cool would it be to say you designed the symbol that unites bassheads all over the world?
5. Blogger
What better way to share your thoughts about all things edm? As a blogger, you get to stay updated with all things edm and keep yourself involved with the lifestyle. People will be able to respond and give you feedback. It's a great opportunity to show your creativity and share your opinions.
Interested in getting involved? Join the thatDROP.com team today! Just fill out the application on our Join The Team page.
6. Lighting Director
Whenever you go to a show, the lights are a big deal. It sets the mood right? As a lighting director, you'd be able to rig stages and locations sets with artificial lighting at entertainment venues.
For Pretty Lights, the name speaks for itself. They are known for having some of the best stage lights for their shows. Check out this picture doe…
7. Promoter
As a promoter, you get to the opportunity to help organize entertainment events like nightclub events and concerts. The promoter is required to have a lot of skills; PR, business, innovation, advertising, etc. Responsibility and reliability are also key components, as this job could require a lot of work. But if it's your passion, then it's not work at all right?
Take Opera Nightclub in Atlanta, Georgia. Every Friday night is Illuminate, where DJ's come and perform. The club has promoters just for these specific nights. Free admission and the ability to meet people and make new friends every night! What could be better?
So there you have it EDM family – 7 dream jobs in the electronic music industry.
Have one that you didn't see listed? Be sure to leave us a comment and let us know what you think!